Linsey Dawn McKenzie » Sex Ed
Unable to play the trailer? Try one of these:
MP4 480X360
What you're about to see will convince you once and for all that the geeks at the BBC should give Linsey Dawn McKenzie her own television sitcom during prime time. Miss McKenzie is a woman of many talents and one of those talents is teaching sex ed classes to girls and women. Today this dedicated educator and researcher will teach these inquisitive, eager minds the basics of female anatomy and feminine sexuality in a frank, adult manner. She demonstrates the fine arts of fellatio, cunnilingus, various forms of sexual intercourse, tit-wanking, female masturbation, the female orgasm and more, helping to produce superior shaggers. Welcome to Class 69. Linsey is outstanding, sexy and funny.
27:55 mins
Rating
Download Options
Full Scene Download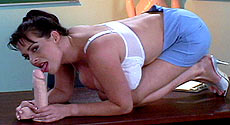 Five-minute Clips
More Linsey Dawn McKenzie Videos